Barbara Philipp is a visual artist, working in the Netherlands and in Austria.
The human body in transition in our times and its abstractions are key to her work, she explores the relationship of different formal and contextual languages.
The artistic translation is located between words, images and the imagination that point to an allegedly perfect world.
She studied in Vienna, Paris and Frankfurt and finished the master program of the Dutch Art Institute (DAI).
(Source: written by Alena Alexandrova for the exhibition Metamorphoses at the A. Pierson Museum, Amsterdam, 2010.)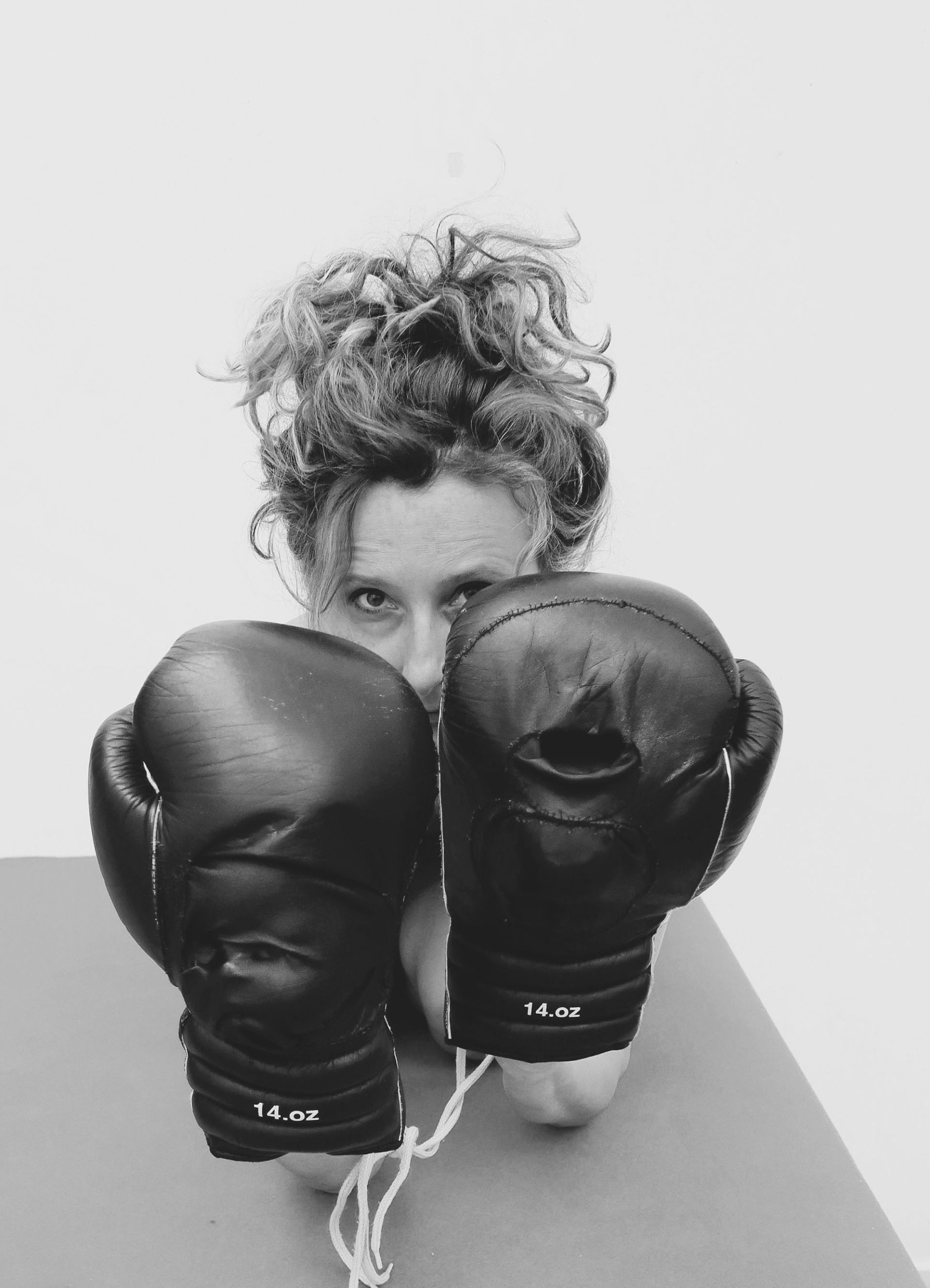 Childhood
Barbara Philipp was born 1977 in the South Eastern part of Austria, in Graz. Her parents turned their former small pastry shop to a well-known establishment in town where everyone was welcome to eat ice cream, delicious Viennese pastries and to drink coffee. It was a business in which the whole family was involved and this story is still influencing her art practice.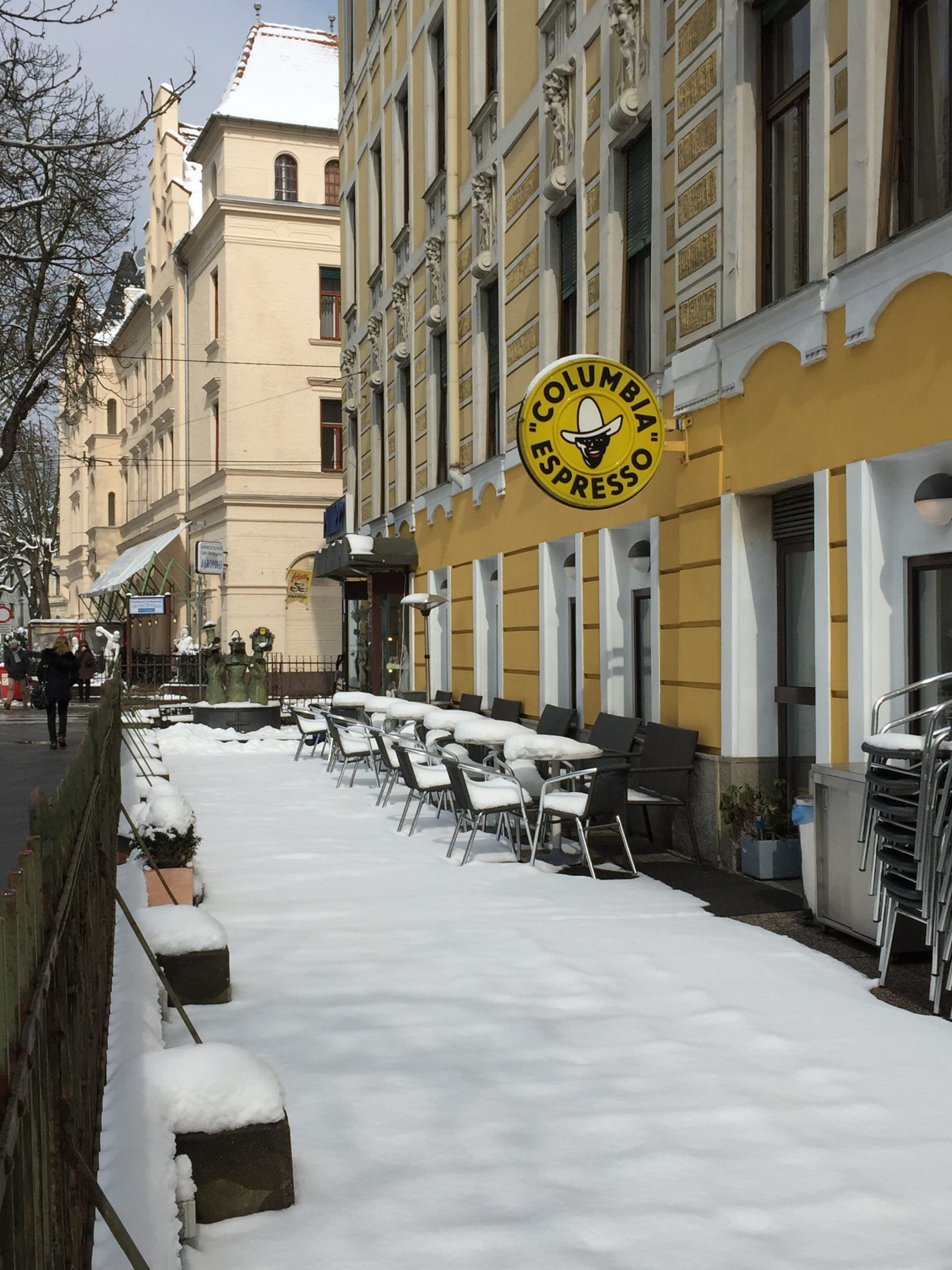 The family pastry shop in Graz
For her A level exams in school she wrote about the work of Gabriele Münter, Käthe Kollwitz, Alma Mahler and Paula Modersohn Becker. She tried to connect their lives in one way or another and felt an urge to show the fights they had to go through as women artists. In spite of a hostile patriarchal environment that push backed their achievements, they developed their artistic practice, even if their names were less known to a broader public. The incomprehension of this gender filter in art increased her need to know more about other female artists.
Painting and drawings were her mainly practice after school days. To emerge in seeing, reading and doing made her feel complete during her adolescence, following her need to contextualise the world.
Growing up in the eighties and nineties, she was seeing mostly only one river side of the city, besides the summer holiday travels.  She had a dream: to go to live in Paris.
Time in Vienna
After school she left Graz and passed the exam for the academy of Fine Arts in Vienna.
The Fantastischen Realisten were an influential art movement at the academy, no woman was a master teacher at this time. She was taken into the masterclass of Anton Lehmden who had his atelier in one of the four towers in the academy building of the Schillerplatz.  
Schillerplatz: the name of the place where the pastry shop of her parents was situated and now the name of the place where her life continued. She loved to write, read and get inspired by words and the world of theatre. 
She met Lehmden only a few times, but she felt embedded in this new world and could rely on his wonderful assistants and artists Mak Siutim and Michael Hedwig.
They taught her technical basics like putting the canvas on the stretcher frame, preparing the grounding and getting to know and use colours pigments; their knowledge and generous sharing enabled her to grow. Her time there was short, after a year she left for Paris. But she learned a lot in this grey atmosphere of Vienna in the late 90ties where the Iron Curtain was still present in the lives and minds of colleagues and people she met. 
After being accepted in the studio of J.M. Alberola at the École des Beaux Arts in Paris (énsba), a whole new world was in front of her: a language she has hardly spoken, became the vehicle to connect with people from all around the world, discover new perspectives and invest in new encounters. 
In 1998 Hermann Nitsch planned his 6-day long action of the Orgy Mystery Theatre and she spent the summer in his Austrian castle in Prinzendorf to get to know and to participate in his work. The Viennese Actionists were an art movement which has shocked the social and political establishment with their radical performances. Prinzendorf offered her another awareness of being and understanding which stayed with her ever since.
For the first time, because of her living abroad, she had to deal with the label of being Austrian, of feeling the invisible prejudices people connected with the ownership of a passport. Together with a group of artists friends (Taek Young Lee, Nina Levinthal, Mounir Elaloussi and Matthias Schäfer) she organised two exhibitions in Seoul and Vienna about the feeling of "strangeness" and the impossibility of coming back home, because home becomes a flexible notion when hearts and minds adjust to the new places in which they are living. They learned and got inspired from each other.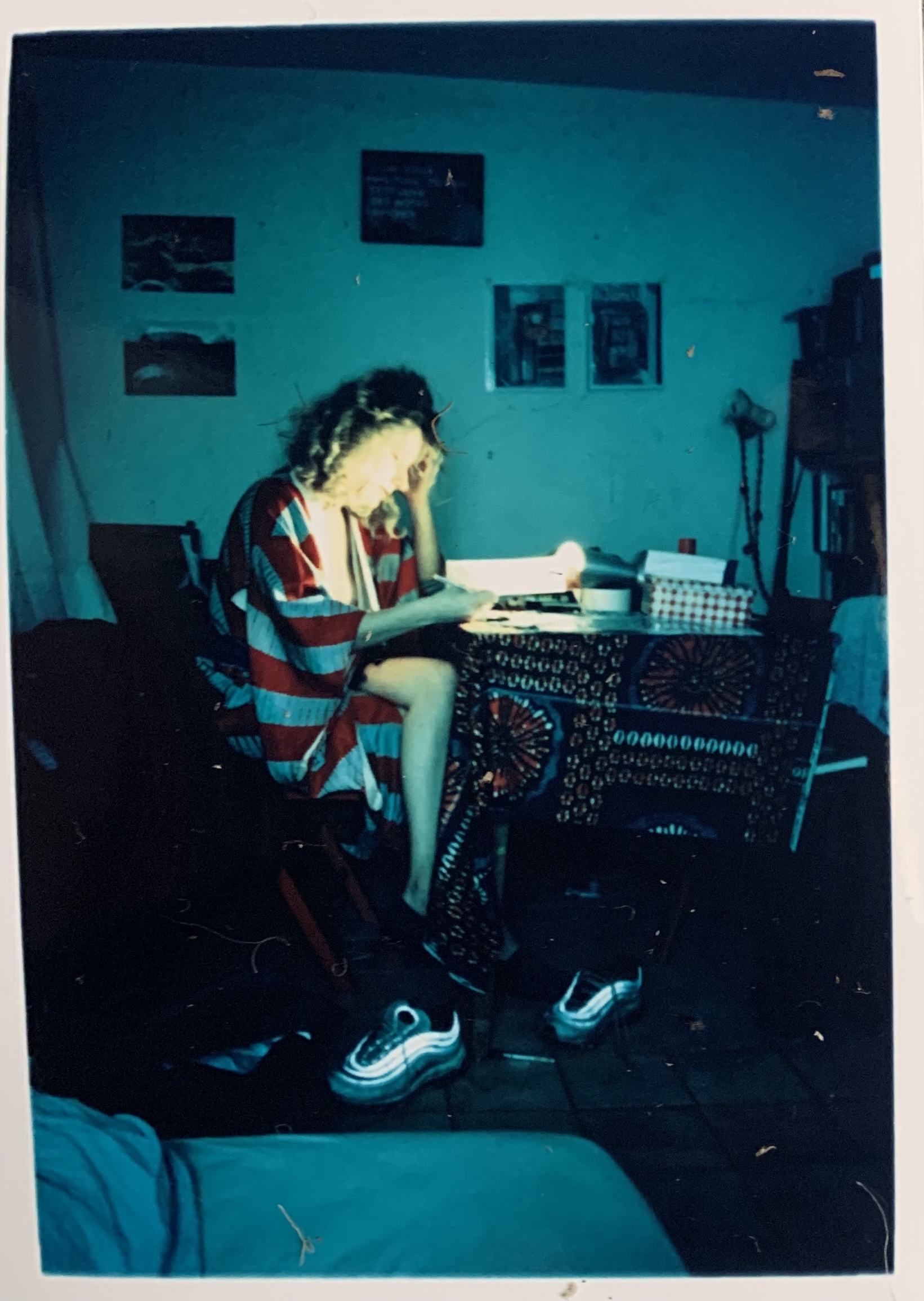 Home in Paris, rue Montmartre
At this time she did not know that she would spend a year at the Städelschule in Frankfurt to connect again not only with Nitsch, but also the work of Kubelka and his former class of cooking and filming. She created her first food performance life/love/death and worked on the language of wine descriptions, embedded in the wine painting series. 
In 1999 she met Dominique Pollès, an artist and master of bronze whom she owes a lot after countless technical and philosophical/ worldview confrontations. She shared with him his studio in the Marais in Paris.
After her return to Paris in 2002, she was searching a working place outside of the academy and she found her place at the squat in the rue de Châteaudun, behind the old opera house.
The grand building was occupied by the Intact collective, which organised plenty of events and defended their interests as squatters, and by an American group of writers who published a magazine (kilometre zero) and a few others.
Her painting series Fresh Meat started to be created there, behind the department store La Fayette and therefore surrounded by the most elegant and expensive advertisement for perfumes and beauty articles. The performance Spoon-feeding also took place there. 
She graduated at the énsba and moved back to Vienna.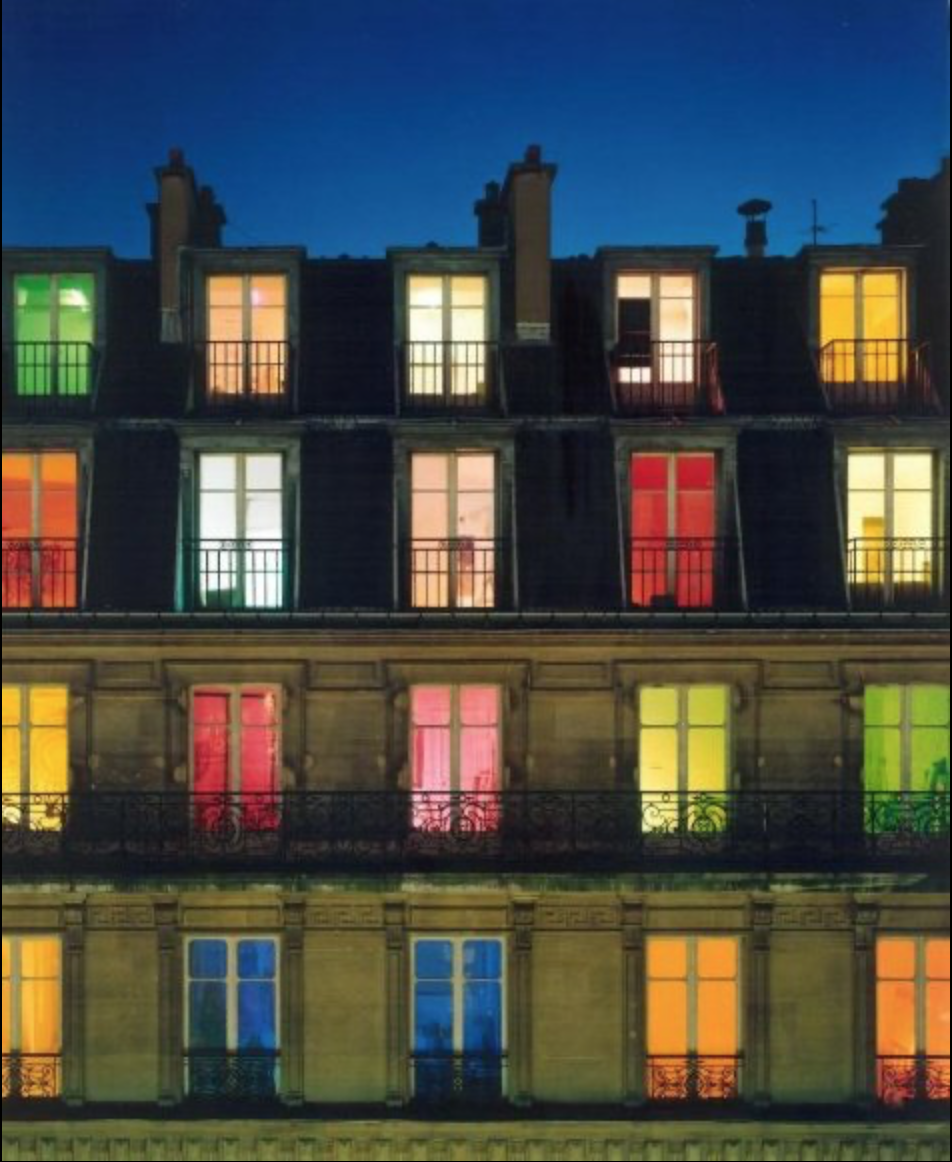 Squat: 51, rue Chateaudun, studio place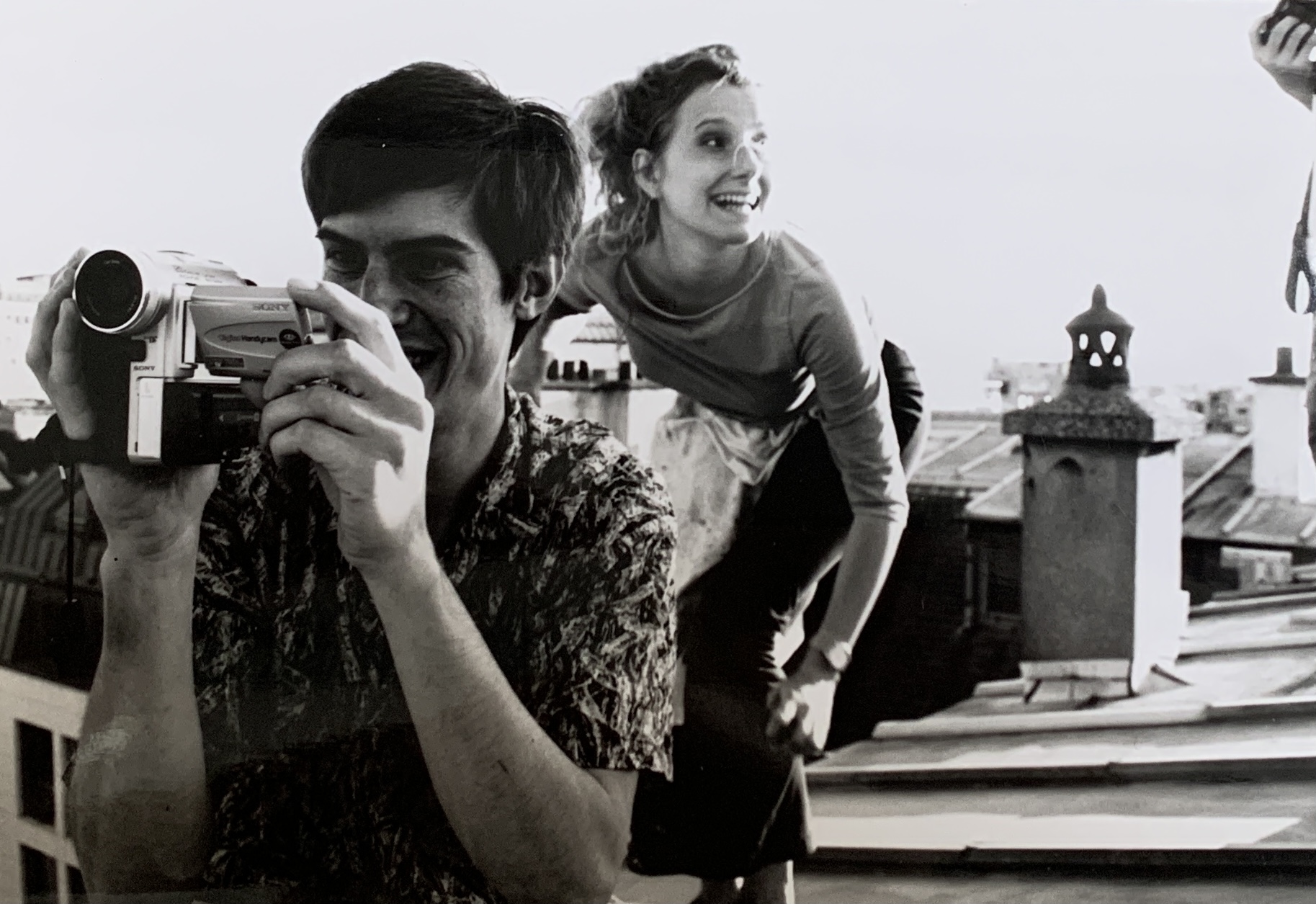 Time in Vienna II
Die Grundsteingasse – her new studio space!  Again, the place where she worked, became her main center for exploring, researching and realising art works. Many of her food performances as Tea Time and the Pigeonry could take place within the Soho in Ottakring festival. The use of language played an important part in her working process. The Fresh Meat painting series continued. She had one more year ahead at the academy of Fine Arts in Gunter Damisch´s masterclass.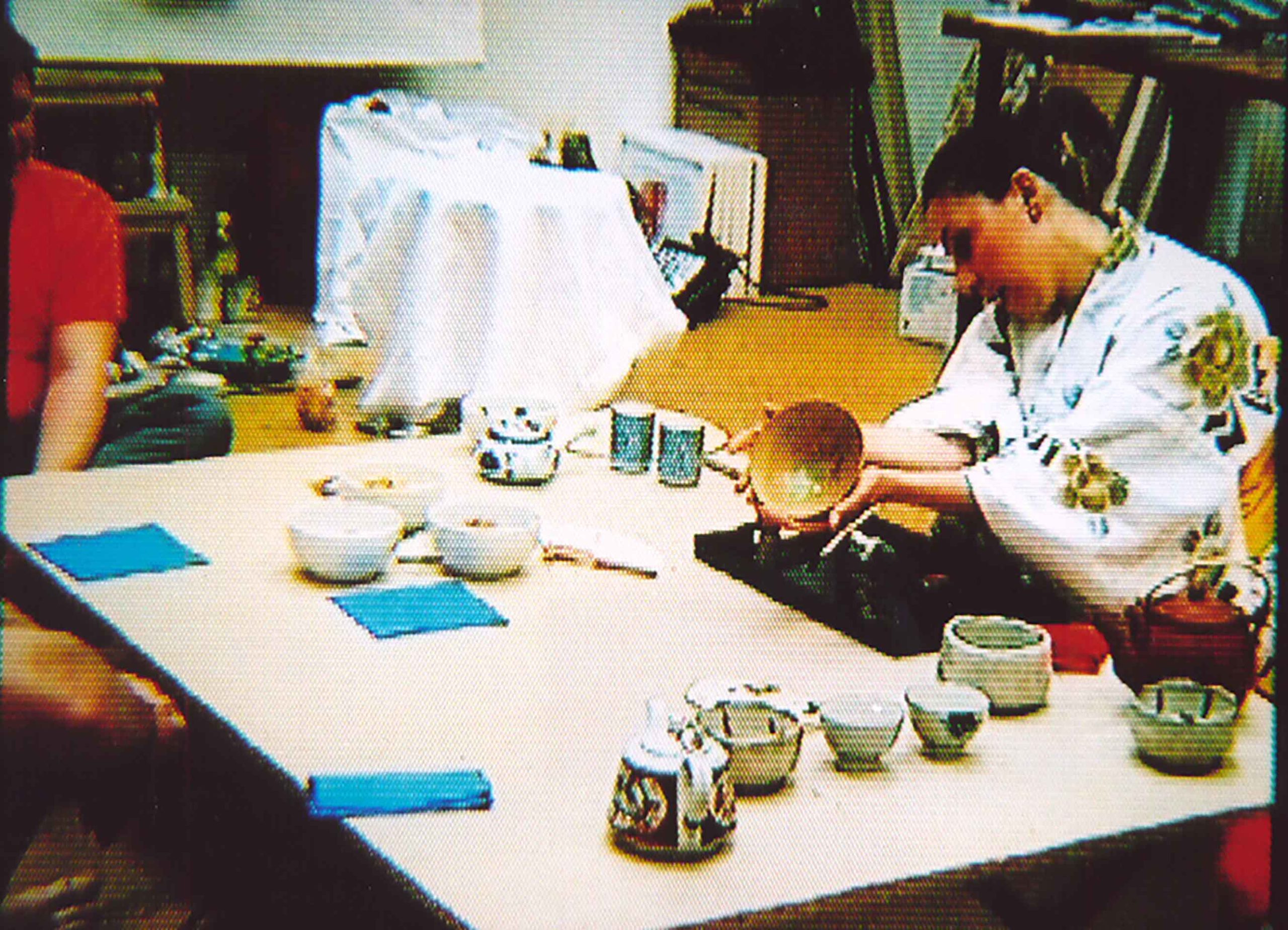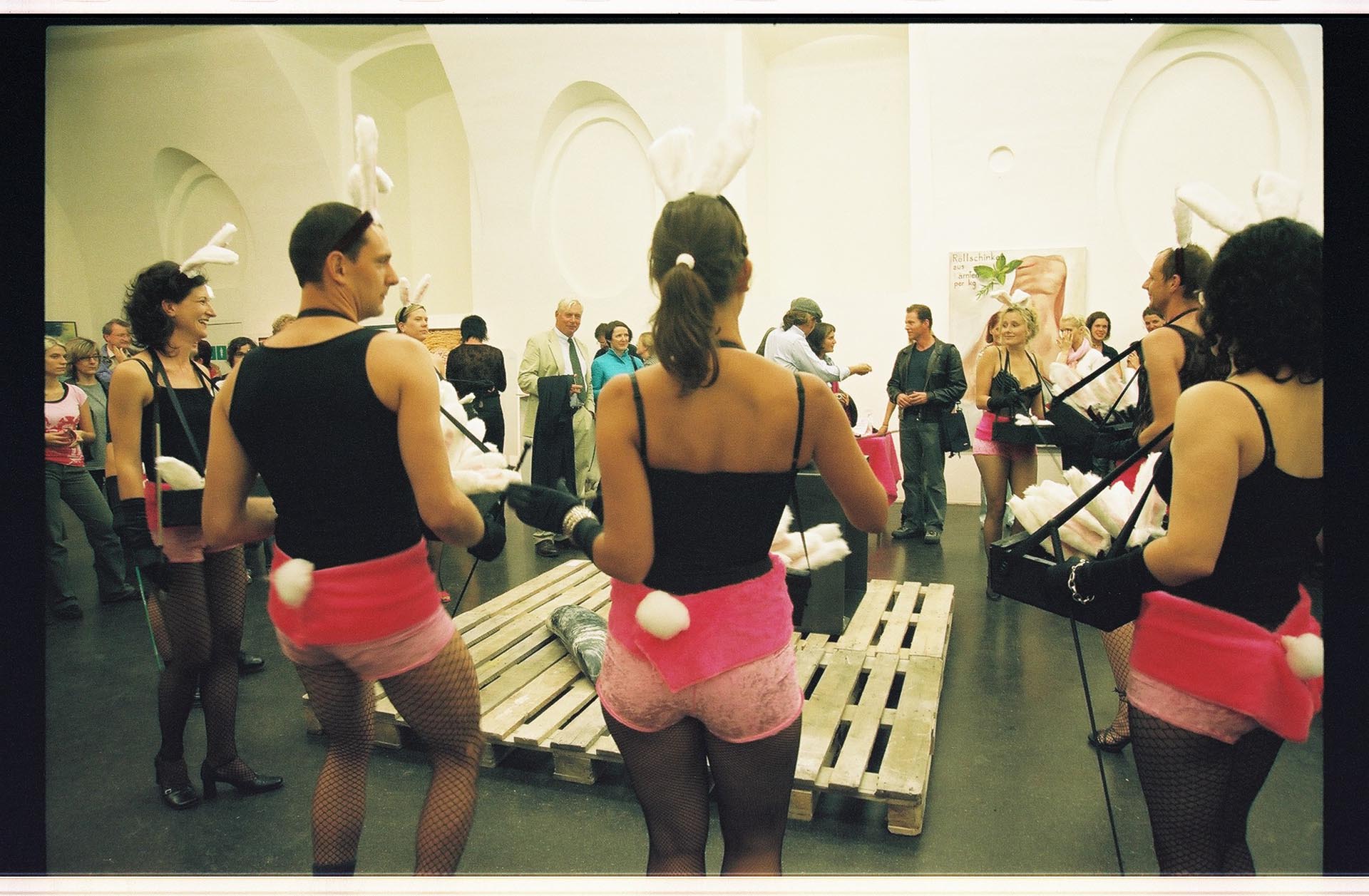 Time in Amsterdam
Out of love she decided to move to Amsterdam. The city was tough on her at the beginning. An admission at the Dutch Art Institute followed. The city has a wonderful international flair, other influences than in Vienna and Paris can be felt and give a special flavour to the cosmopolitan population. 
Then her two sons were born and a new chapter in her artistic practice began, as a consequence of the difficulties she encountered in being a mother and developing her artistic practice. The isolation of the first years was broken through a reading group about Motherhood in art, created by artist Deirdre Donoghue and her m/other voices project at the Witte de With Center for Contemporary Art (now Kunstinstituut Melly) in Rotterdam. Field trips to other mother artists' studios and the necessity to intensify the artistic research on this topic empowered her to collaborate and connect with other mother artists in order to raise the awareness on gender inequality caused by a patriarchal system.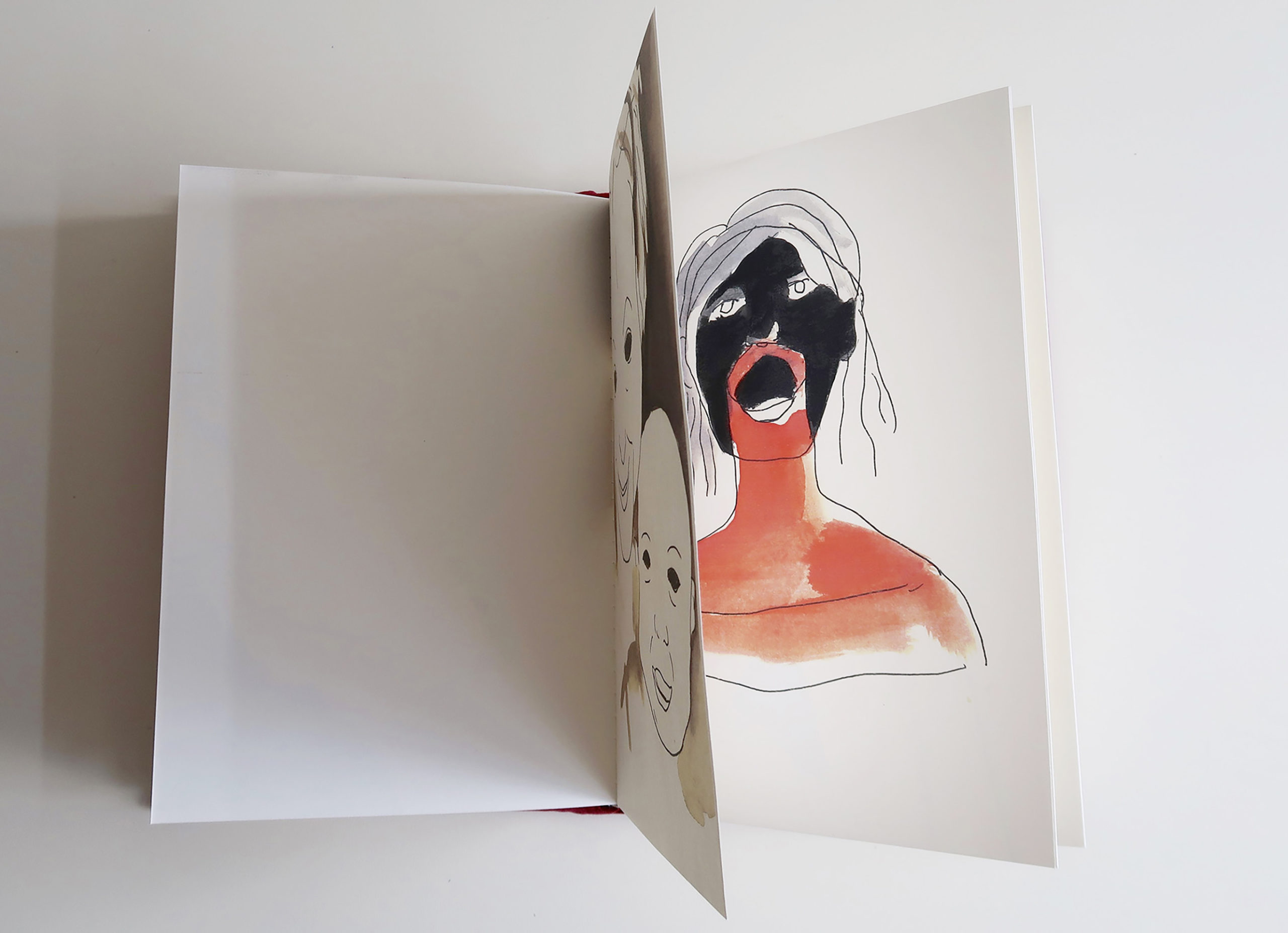 Mothers Matter, artist book
During the first years of her children's childhood drawing was her main technique and led to two artist books: Immunity and Mothers Matter.
An art residency in Switzerland helped her to find and express her voice again, and to go back to a performative practice. Several opportunities to present and talk about her work arose in Japan, Denmark, Germany and elsewhere…..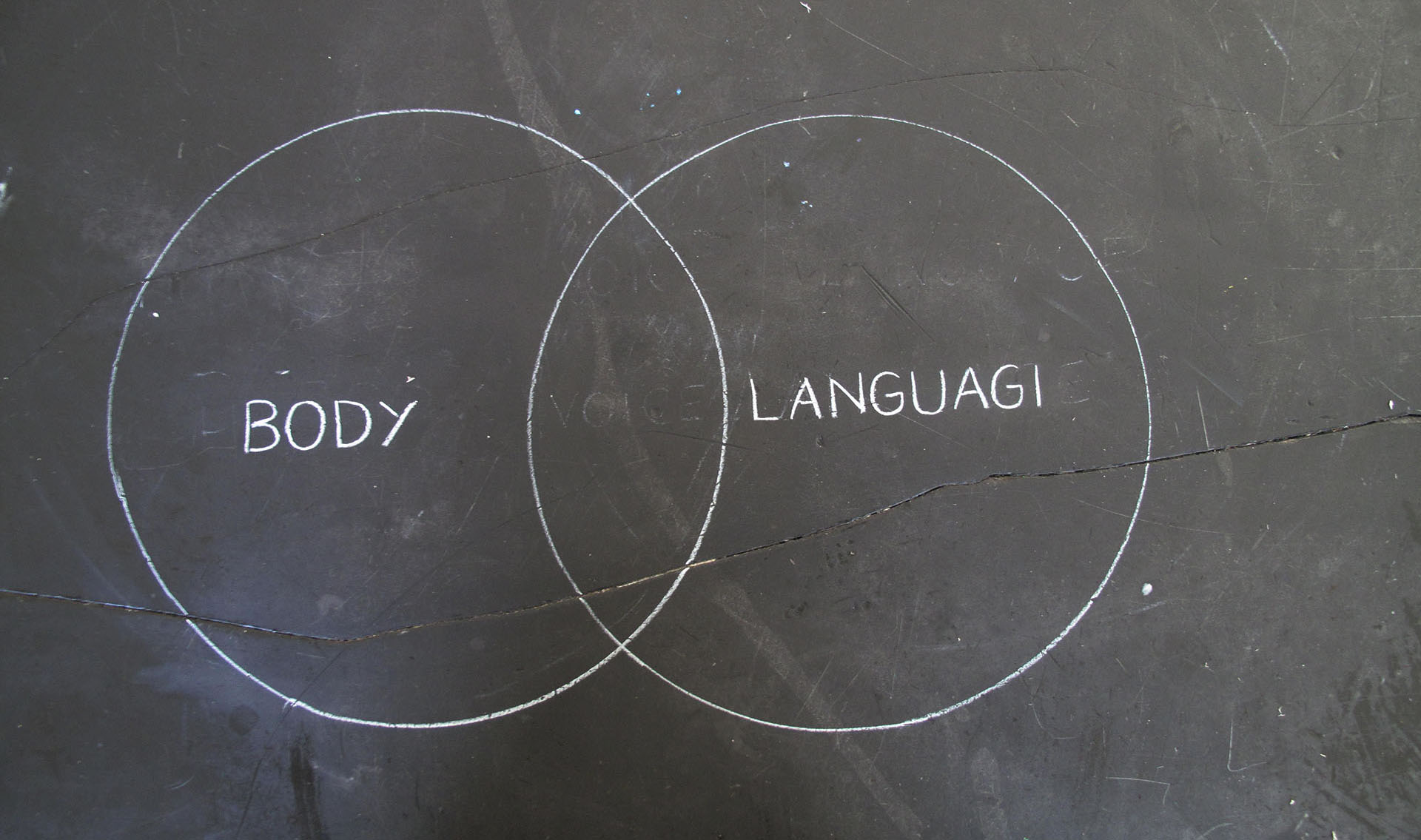 Sketch for the Echo walk during the art residency in Wald (CH)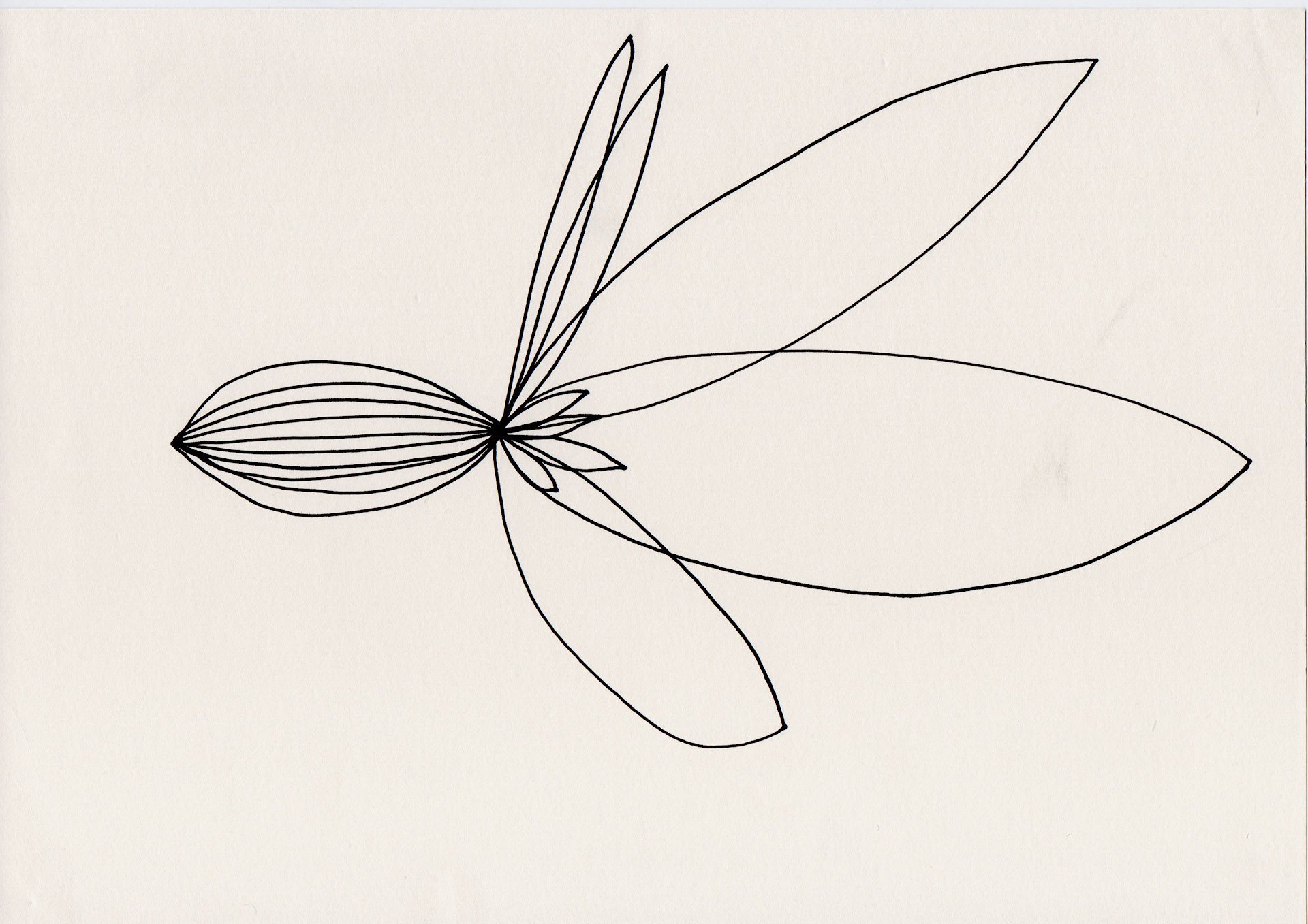 Timecapsule, drawings about space and time distances to our kids
The Twenties in 2000
Her father died. Corona happened. She made the Knock Down drawing series. She painted. And she started the Viennese Coffee House Series.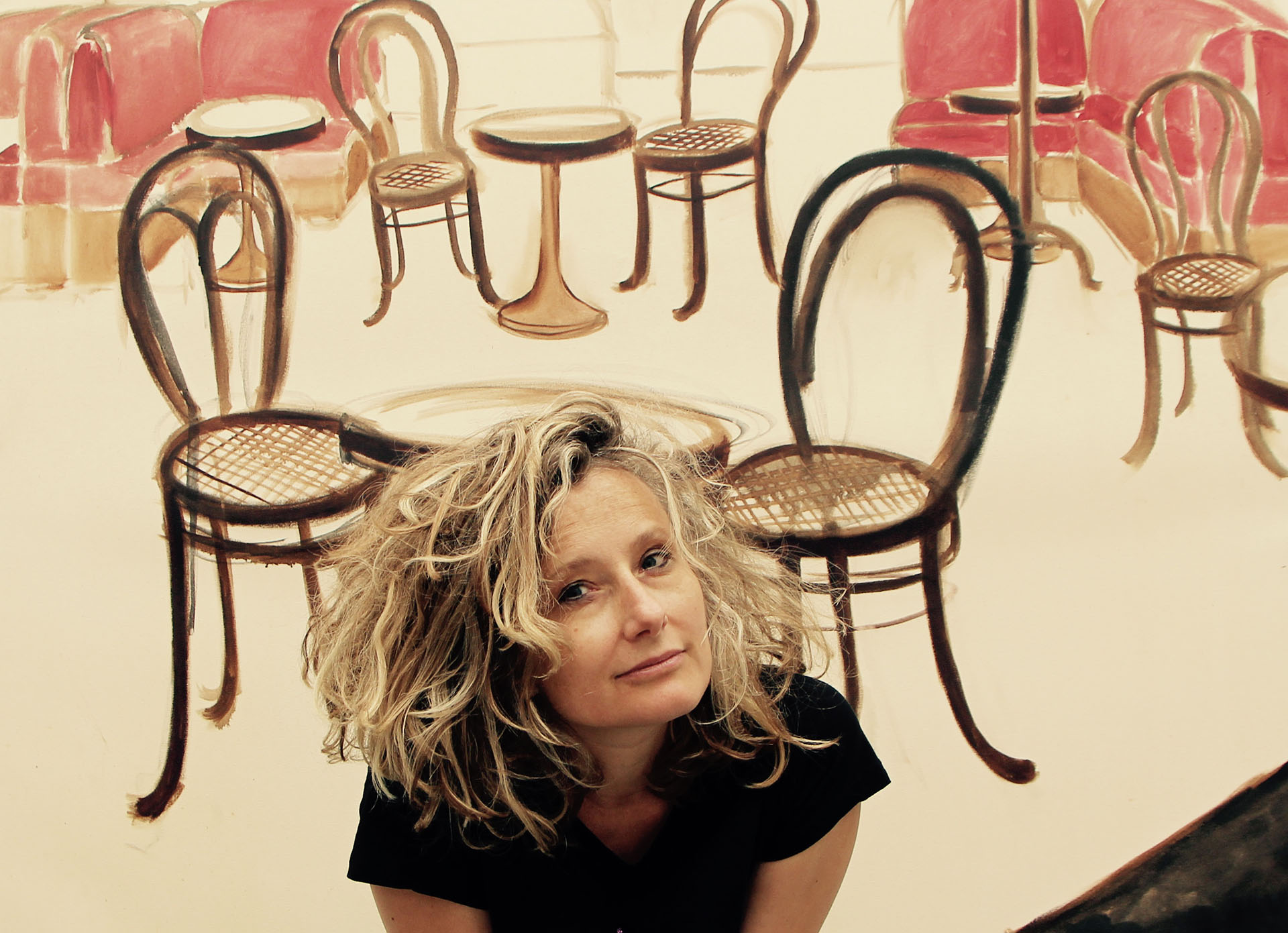 The artist in front of her Viennese Coffee House (NL)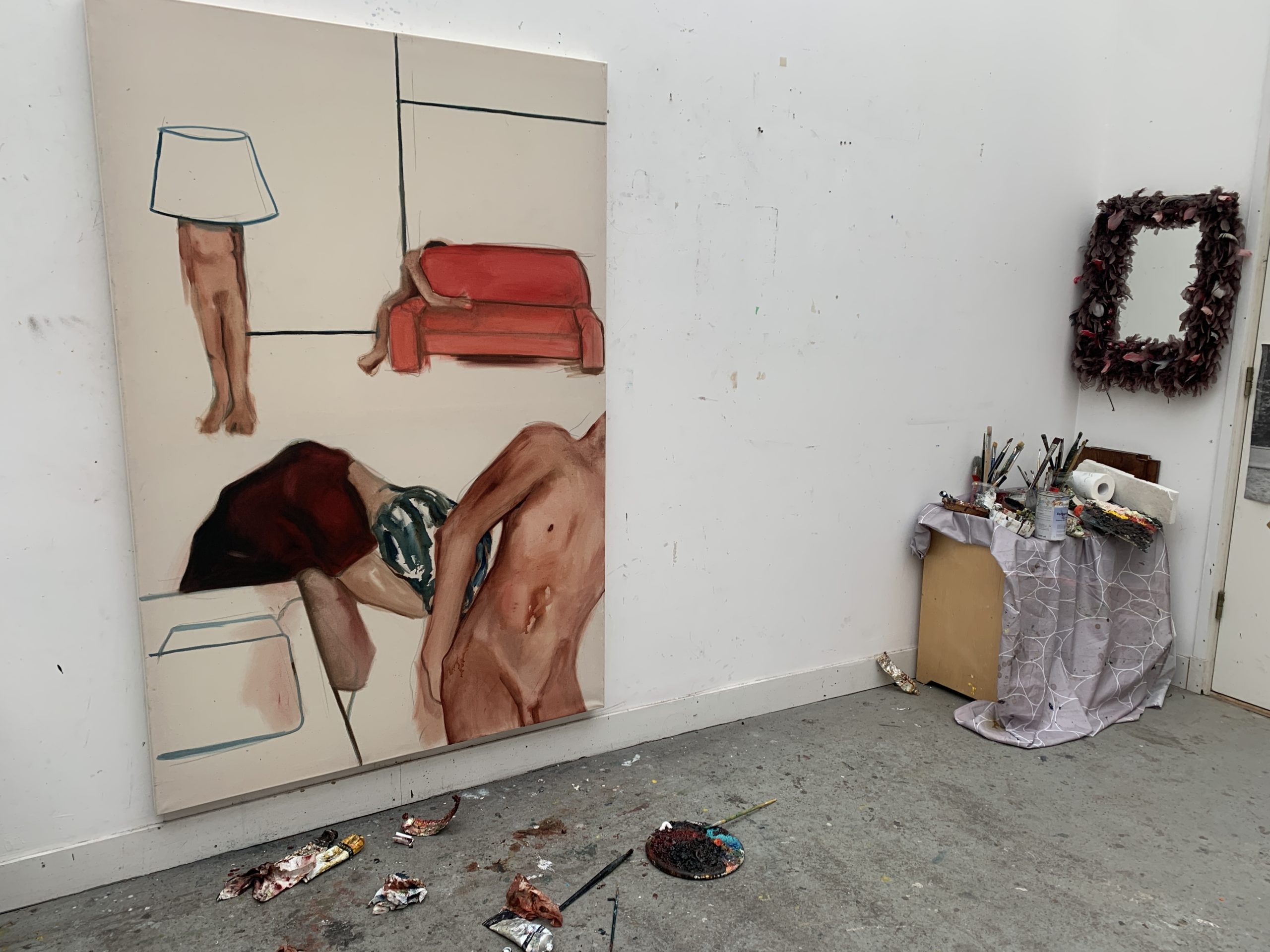 at her studio, Loodsen X&Y&W
Whether you have a question about artworks, collaborations, need inquiries, or anything else, I am ready to answer all your questions.